The municipality of Psary is a suburb of the 2.2 million conurbation in the fastest growing part of the country. That is why it is one of the best places for housing and housing related enterprises in the south of Poland. Only 20 minutes' drive from Katowice, the voivodeship capital, and 15 minutes to the airport in Pyrzowice. It has fast access to A1 and A4 motorways and numerous shopping malls. The quality of life here is much higher than in the city but the prices are lower. Therefore, for 15 years the population of the municipality has continued to grow and new settlers still arrive every year.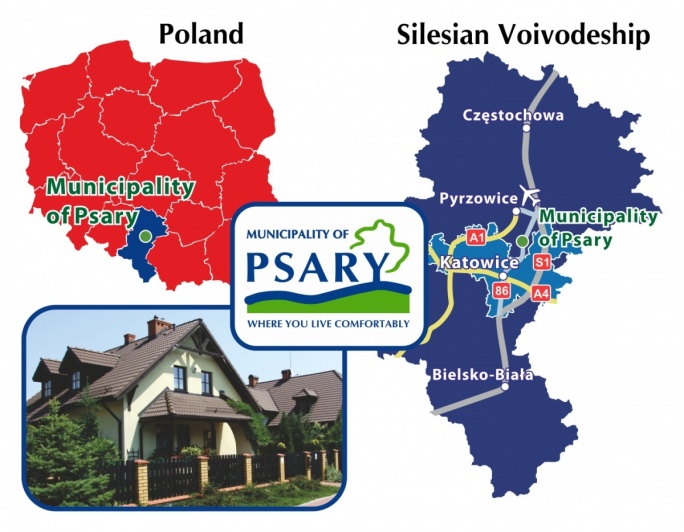 Psary on the map
The municipality of Psary is a green suburb of the Upper-Silesian conurbation. It's located directly by the dual carriage way no. 86 connecting Katowice and nearby cities with Warszawa (Warsaw) and Gdańsk to the north and the Czech Republic to the south. There are also other important transport routes like the motorways A1, A4 and S1 nearby. Thanks to Psary's central location in the voivodeship and numerous main roads it is very easy to get to the most important places in the region, especially to the cities in the Upper-Silesian conurbation: Gliwice, Zabrze, Katowice, Bytom, Świętochłowice Siemianowice Śląskie, Sosnowiec, Dąbrowa Górnicza, Jaworzno, Czeladź, Mysłowice, Będzin, Tychy, Ruda Śląska, Piekary Śląskie, Chorzów, Mikołów, Tarnowskie Góry and Knurów. All these cities form the Metropolitan Association of Upper Silesia inhabited by more than 2.2 million people.
20 minutes' drive to the capital of Silesia
Good road connections enable residents of Psary to get to work quickly in any city of Silesia. Driving from Psary to the Katowice city centre, the voivodeship capital, takes only 20 minutes. At the same time Psary is close to major shopping centers like M1 in Czeladź (9.6 km), Silesia City Center (21.1 km) and IKEA (16.7 km) in Katowice. Four popular discount stores are also located nearby.
By car or by plane
Location of the municipality of Psary also encourages further travels. The international airport "Katowice" in Pyrzowice can be reached by car within 15 minutes. The nearest entry to the A1 motorway that leads south is just by the airport and the motorway A4 is just 20 km away.
Green and safe
Even though the municipality of Psary is situated close to major roads, the vast majority of residential areas is located within a safe distance from them. Along with the surrounding meadows and forests it creates a pleasant green corner, isolated from noise and landscape of industrial areas. Forests, parks and nearby lakes provide high quality of life and enable unrestrained contact with nature. They also lend to stress-free life. It is worth adding that the commune is dominated by single-family houses which perfectly integrate with the agricultural landscape.
The commune is surrounded on three sides by lakes and forests. To the east there are Pogoria III and IV lakes with beaches and paths for cycling and in-line skating. This area has well developed recreational infrastructure which gets better every year. To the west from Psary there is Rogoźnik lake and a little farther famous Świerklaniec Lake. To the north you can find Przeczycko-Siewierski lake famous for good sailing conditions.
New inhabitants arrive annualy
Every year the number of people living in the municipality of Psary increases. There were 10 255 people living here in 2000, and by the end of 2012 the number has grown to approximately 11 500. The small town of Malinowice is a part of the municipality which has enjoyed a great deal of interest from new inhabitants. The modern housing estate located there currently consists of nearly 100 houses. It became especially popular with residents who value quiet atmosphere and close contact with nature. Another large single family housing estate that has been built in recent years can be found in Psary at Kolejowa Street and Irysów Street. Another single family housing zone is rapidly growing in Góra Siewierska.
A far-sighted investment
When you own a plot of land in Psary, you can be sure it will not lose its value. Your investment's worth as well as the residential character of the neighbourhood are protected by area development plans which are valid for the whole municipality. Any risk of having an abuzz factory unit being built in the neighbourhood is limited. Furthermore, the local authorities continually improve public infrastructure which translates into higher quality of life in Psary and run advertising campaigns to encourage more people to move into Psar. The prices of building plots in Psary, however, are still much lower than in the surrounding cities, and they are about 100 PLN gross per m2 for a plot with access to electricity and water supply system.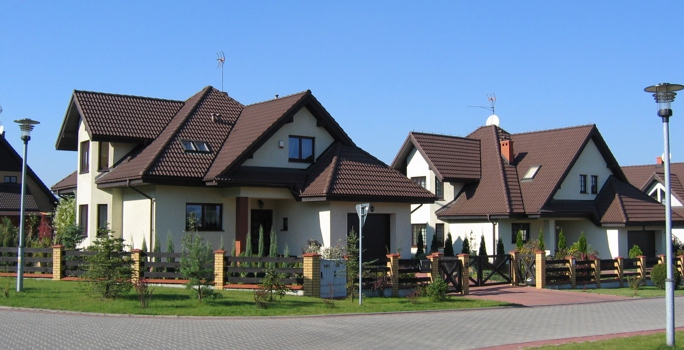 Best place to live in
Psary has got modern schools, culture and recreation centres, libraries and state of the art sports fields. All of these make life there really comfortable.
Children go to modern kindergartens and schools, where they are under the supervision of competent and qualified teaching staff. All of the buildings have been recently renovated and equipped with modern facilities. Every school has got its own computer lab and at least 3 interactive boards with Internet access.
Great focus has been paid to sports facilities recently. 6 multifunctional sports fields and 13 playgrounds were created for citizens of Psary. Moreover, in June of 2013 the municipality of Psary won first prize in the Silesian Voivodeship and came seventh in Poland in the sports competition of cities and municipalities in the category of 7.5 to 15 thousand inhabitants. We are also very proud of our cultural offer that comprises of 6 culture and recreation centres, 4 libraries and public computer labs with free Internet access.
Investor relations at Psary Town Hall
Townhall of the Municipality of Psary, ul. Malinowicka 4, 42-512 Psary
phone +48 32 29 44 920
fax +48 32 29 44 901
Ten adres pocztowy jest chroniony przed spamowaniem. Aby go zobaczyć, konieczne jest włączenie w przeglądarce obsługi JavaScript.
www.psary.pl